Data Analytics
Announcing Intellischool Analytics, v2!
I'm properly chuffed to be able to announce that V2, our first major revision of Intellischool Analytics will be rolled ...
---
I'm properly chuffed to be able to announce that V2, our first major revision of Intellischool Analytics will be rolled out in Term 2 this year. In this article, I'd like to outline the new features and provide a bit of a rationale for any changes.
It's safe to say that we were inundated with great, common-sense requests from our schools throughout 2022. We've incorporated many of these requests alongside new features we've designed to better serve classroom teaching requirements.
Primary School Analytics
Our most significant innovations a centered on better serving the needs of primary school teachers. Primary School Analytics focuses on curriculum-based progress reporting, tracking growth against a curriculum framework and addressing other differences in how attendance and pastoral data are recorded and used.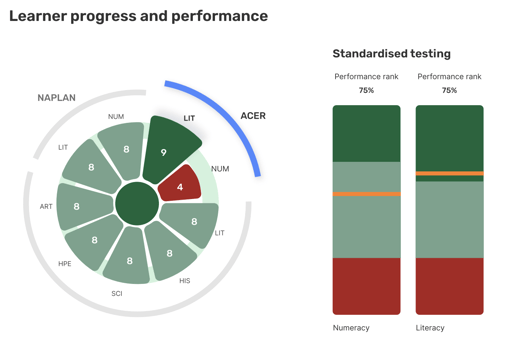 Primary School Analytics supports a range of curriculum frameworks and standardised testing types and combines these signals together to give a full picture of where a student is right now, how they're growing academically and what they could focus on next.
Pulse Alerts
Off the back of the Primary School Analytics innovations, we've built a range of new Pulse Alerts that aim to get right at the heart of how schools monitor academic performance. A few examples of the new alerts are as follows:
Monitoring and identifying significant changes in PAT testing results over time for cohorts and individual students.
Identifying unusual discrepancies between NAPLAN and PAT results and comparing them to teacher judgments.
Monitoring growth compared to external benchmarks, like the state average.
These alerts will be available to subscribers of Primary School Analytics. Secondary schools should get in touch if they'd like to discuss these alerts.
Secondary School Analytics
The biggest improvement we've made is the new look and feel which has taken into account the many suggestions our schools have made for improvement. Alongside the updated interface, there are many small innovations - too many to list individually here, so I've tried to group them into meaningful categories.
Performance Analysis
We've made it easier to change the way you compare historical performance - you can compare an individual student to their own past performance, or to a group of 'like' students which similar levels of achievement. We've also made it simpler to see individual assessment results and compare performance within one assessment or across many. The example below is of the new Cohort Indicator page, which now includes a chart for examining class/cohort and individual performance across assessment types.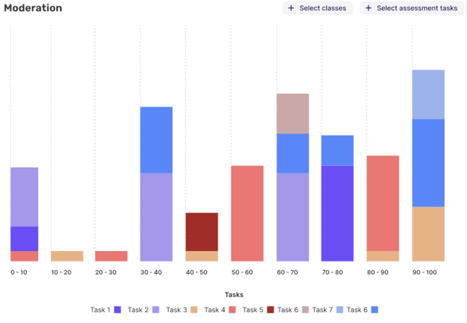 Seeing performance longitudinally by curriculum area has long been something we do but now you'll be able to analyse and compare performance for multiple subjects within a curriculum area - like Biology and Physics (Science) or Indonesian and Japanese (Languages).
Analysing Growth over Time
We've updated our quadrant chart to allow for quick filtering of specific groupings of students. So if you're analysing growth in Reading, or English (or both) you may just want to see students who've shown low achievement but high growth - well now you can 'zoom in' on that group.
We've also added new data types to our Achievement chart meaning that you can now look at PAT or NAPLAN results by stanine or band (we'll support NAPLAN's new four-band performance measure) over time. This way you can pick a cohort and look at things like Reading performance within the year, or over many years.
NCCD Reporting
Many schools have asked for assistance in tracking progress of students funded under NCCD and we'll now have a 'quick filter' to allow for all of your dashboards to show only students with this category.
These and many more feature enhancements are all due for release at the start of Term 2, 2023. We have another release (V2.1) planned for mid-Term 2 which will provide many more features specifically geared towards Leaders of Learning, HoDs and Literacy/Numeracy Leaders. Stay tuned for updates on this release.
If you'd like a demo and discussion of these new features or to talk about how we can support you with training through the change, please hit the link below, or leave a comment.