Data Analytics
Announcing our partnership with Komodo Wellbeing!
Intellischool, provider of education data management software and Komodo Wellbeing, provider of student wellbeing ...
---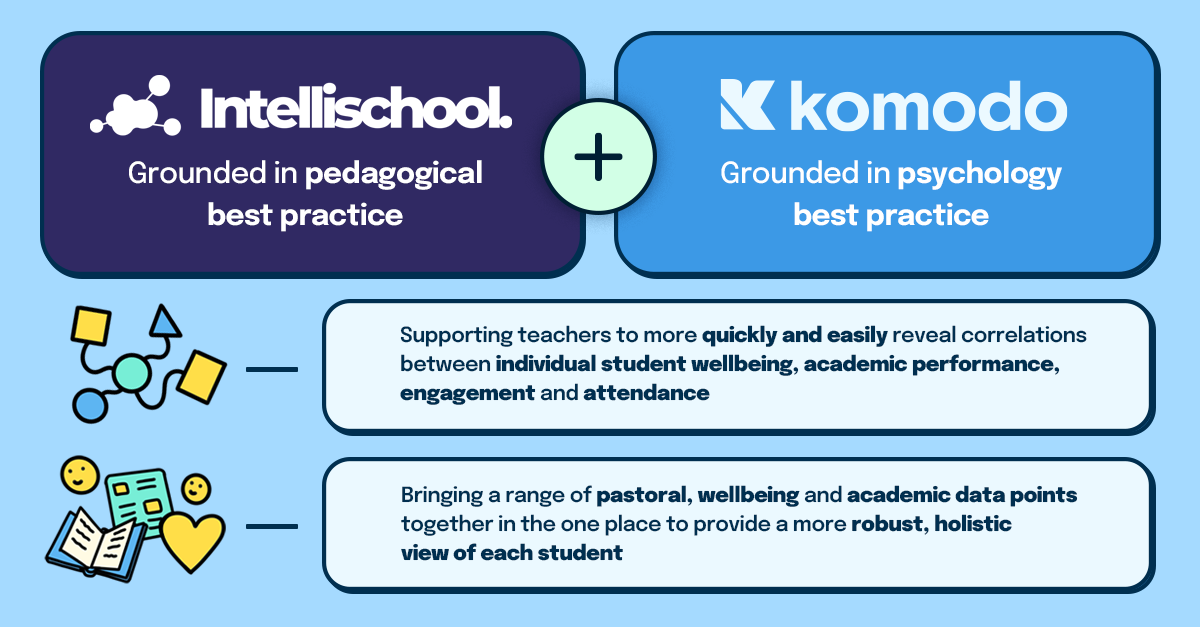 Intellischool, provider of education data management software and Komodo Wellbeing, provider of student wellbeing solutions for schools, are proud to announce an exciting partnership. Their product integration programme is set to be backed by a content series that tackles their schools' biggest challenges.
The collaboration aims to streamline education data management processes and improve accessibility for school staff. By combining Intellischool's innovative software solutions with Komodo's cutting-edge wellbeing tools, the companies hope to provide schools with a comprehensive platform for managing student data and promoting student wellbeing. Both companies have been making waves in the EdTech sector as inventive startups with solutions schools are evidently looking for. Identifying common ground in data management and efficiency, Komodo and Intellischool are both in business to provide schools with software solutions that bring about positive change for staff and students alike.
"Our shared goal is to provide schools with the tools they need to promote student success, and we believe this collaboration will help us achieve that," said Jack Wood, Komodo CPO and Co-Founder.
"I'm so excited that alongside Komodo, we'll be able to bring together student academic and wellbeing data in a central location, allowing teachers to more easily uncover trends and insights across data sets. Ultimately, this will help teachers to better address individual student needs, and support students to thrive at school. I would have loved having access to this combination of data during my time as a homeroom teacher!" said Jade Cleave, Intellischool Education Specialist.
A limited access beta programme that would allow users of Komodo and Intellischool to experience a streamlined data platform is currently in development. Intellischool and Komodo Wellbeing are combining their expertise to create a more efficient and effective platform for managing education data. The integration will also make it easier for school staff to access and use data, allowing them to make more informed decisions about student performance and wellbeing.
"We are thrilled to partner with Intellischool to empower schools with the ability to triangulate student wellbeing," said Chris Bacon, CEO and Co-Founder of Komodo Wellbeing. "Our holistic approach to wellbeing aligns perfectly with Intellischool's commitment to providing schools with data-driven insights, and we look forward to working together to make a positive impact on education."
The collaboration between Intellischool and Komodo Wellbeing represents an exciting opportunity for schools to benefit from the latest knowledge and innovations in education management and student wellbeing. Collaborative articles, videos and events are in the works that will look at ​​the power of holistic data analysis and insight in the education space. By working together, the companies hope to inspire schools around the world to consider their student success and wellbeing strategies.
"What excites me about our partnership with Komodo is our shared vision of using data-backed insights to make it easier for educators to have positive and impactful interventions with their students. The additional insights will help create a fuller picture for educators and remove the complexity of multiple data sources allowing for improved support for students, which we all care about." said Joe Salvati, Head of Growth at Intellischool.
---
About Intellischool
Intellischool is a leading provider of data analytics solutions for schools, designed to streamline administrative processes and enhance the student experience. With a focus on innovation and user-friendly design, Intellischool's software solutions are used by schools around the world to manage student data, automate administrative tasks, and improve communication between staff, students, and parents.
About Komodo Wellbeing
Komodo Wellbeing is a provider of holistic wellbeing solutions for schools, designed to promote the mental, emotional, and physical health of students. With a focus on evidence-based practices and data-driven solutions, Komodo empowers schools to create a culture of wellbeing that supports a wellbeing-first approach. Schools around the world use Komodo's solutions to promote school-wide wellbeing and equip staff with best-practice knowledge to manage and improve their student's success and psychological safety.
Learn more about Komodo here: https://www.komodowellbeing.com/