Data Analytics
New Year, New Training with Intellischool
Studies into the effects of (data-based decision making) have shown that increased access to high level student ...
---
Studies into the effects of (data-based decision making) have shown that increased access to high level student achievement data is not sufficient for simply improving student achievement (Kaufman et al., 2014)... Support is needed so that teachers may become more capable at using student performance data to adapt instruction in line with the needs of students (Marsh, 2012).
We firmly believe that having the right tools is one thing, and understanding how to best put them into practice is another thing altogether. Rather than becoming 'just another platform' amongst the countless others that teachers already juggle, we want to make sure that your school is getting the most out of your investment into Intellischool's dashboards and tools, and the best way to ensure this is through a tailored and consistent approach to training. Each step of our training is carefully designed to support you in effectively using data and analytics to achieve your school's strategic aims.
🧠 What's our training philosophy?
First and foremost, we want to understand as much as possible about your school, your teachers, and your students. Just as teachers differentiate in the classroom, we're committed to tailoring your training experience in response to your school's unique context, strategic aims, strengths and challenges.
Our approach to training - delivered by teachers who have been in your shoes across classroom, pastoral and leadership roles - is underpinned by best practice principles around pedagogy, data literacy and data storytelling. We have a deep understanding of the challenges that schools face, particularly regarding time and resource management.
Particularly in the early stages of training, we believe working with small groups of 6-8 thought leaders within your school is the best way to engage participants and maximise the benefit of training. This helps to cultivate 'buy-in', as we hope that participants will share new data insights and strategies with other colleagues after each session.
All in all, our ultimate goal is to support teachers in fostering student growth, and to support improvements to teaching and learning outcomes.
⭐️ What are the benefits of undertaking training?

In our experience, schools who commit to our tailored training sessions over an extended period - ideally 12-18 months - see greater buy-in from all staff around new approaches to data-informed pedagogy, and increased data literacy and confidence over time. Effective training goes a long way towards ensuring that using data and analytics becomes part of your school's DNA... and the practices 'stick' in the long run.
With a lack of time being the ever-present challenge in schools, committing to structured training sessions helps to reinforce accountability and commitment to overarching goals and desired outcomes. Rather than just 'tacking on' discussions around data as an after-thought in meetings, our training is intended to support the development of a data-informed culture, and to ensure that the data available throughout our platform is leveraged by staff as part of regular practice. We're keen to make sure that staff don't fall back into old data habits!
Having 'touch points' spread out over an extended period of time helps to reinforce new learnings and strategies, and provides opportunities for structured and purposeful reflection on how the platform is performing in your school's context, and what adjustments are needed to continue tracking towards strategic aims. Spreading sessions out also ensures that we can work with you at points in the year when data analysis is critical - like when ACER or NAPLAN results become available.
🧑🏽‍🏫 What does the training journey look like with Intellischool?
✅ Kick-off meeting
The journey begins with a 30-minute kick-off meeting with our Education Specialist to understand your school's context and aims, and to discuss requirements and timeframes. We're keen to hear anything and everything you feel that we should know to best tailor the training sessions to your school's needs.

Following the meeting, we'll ask you to complete a short survey, in which we'll capture more information about your school's experience with data-informed teaching and learning up until this point, and what you'd like to achieve as a result of undertaking further training with us.
🎉 Here's where the fun begins! Based on information gathered during the kick-off meeting and subsequent survey, we'll put forth a recommended structure for your standard 4-hour training block, which can then be adjusted as you see fit.
🌱 Starter training packages
Our Starter packages are the perfect opportunity to revisit how to effectively build data use into pedagogical practice. Across 4 hours of training, we'll support a small group of your school's thought leaders to build expertise in gathering actionable insights from data, bolstered with support between sessions to continually refine improvements.
The 4 hours can either be spread across individual 1-hour sessions, or can be split into one 2-hour session, and two 1-hour sessions.
Regarding the timing of each session, we'll do our best to work in with your school's calendar, bearing in mind that all 4 hours must be used within a 12 month period.
Sessions generally take place online. In-person sessions can be arranged, subject to certain conditions:

We'd prefer to maximise the value of being on site with you and work with as many different groups as can be organised.
Schools situated further than 3 hours from the Melbourne CBD may incur additional travel costs.

Here's a sample structure for how the 4-hour block could be delivered: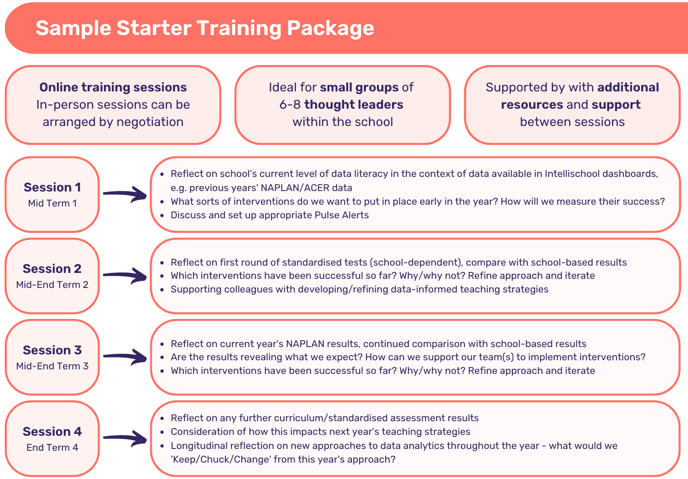 🌳 Advanced training packages
When you and your colleagues are ready to take the next step in your data and analytics journey, we're ready to work with you in designing an Advanced training package.
These packages are intended to progress beyond the fundamentals of implementing a data-informed culture across your school towards an advanced level of data maturity, and are designed in close consultation with you to keep your school's strategic aims front of mind.
Below are suggestions for Advanced training options. If you had something else in mind, let us know, and we'll happily work with you to design a bespoke offering.
Pricing of each suggested package is subject to consultation, to ensure that we're including everything needed to meet your school's needs.